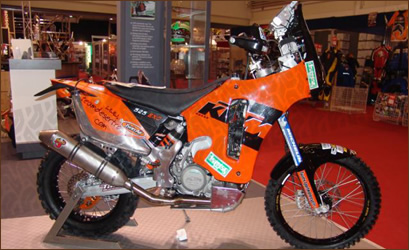 Weighing 125 kilos when its fuel tanks are at full capacity, it's single cylinder four stroke, four valve engine generates 55 bhp. Liquid cooling, electric start, 3 Litres of emergency water for the bike or Rider, electronic road book, I.C.O tripmeter and GPS navigation are all essential to survival in the desert.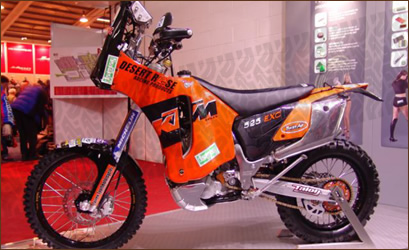 Bike Spec.
• Standard 07 KTM 525 EXC with modifications
• MECA SYSTEMS 'EXTREME' RALLYE KIT which consists of the following:
• Plastic two cell tanks on the front which carry aound 22lts of fuel
• Ally rear tanks which hold 5lts each side.
• Uprated subframe.
• All the bracket work to hold the navigation and light equipment
• Bash plate, which holds tool box and water carrier.
• Low slung exhaust.
• Rallye styled fairing
• Zenon lights to cut through the blackest of nights.
• Leather covered gel seat.
• Frame guards
• Cush drive rear wheel.
• Talon hubs, Excel rims and up rated spokes.
• Michelin Desert tyres and Mooses.
• Ico racing trip.
• Scotts steering damper
• MD road book
• Oil Cooler.
• GMX oversize rallye radiators
• 243 racing high bars.
• Many, many Patsy and team hours !!